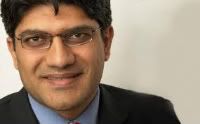 I wish I could attend the BusinessClimate 2010 show hosted by the Carbon War Room in NY City, but I just don't think I can fit it into my schedule.
The ideas are so intriguing: essentially, use of free-market capitalism – rather than government mandates – to shift the focus of business into directions that are sustainable. In addition to the organization's founder and perhaps the world's most famous entrepreneur Sir Richard Branson, there will be a ton of incredible speakers on this subject, including the former president of Costa Rica, Jose Maria Figueres.
In my numerous talks with CEO Jigar Shah on this subject, including the interview I conducted for my book, I'm always intrigued with the creative ways he proposes to kick-start the race towards wealth creation in sustainability through the use of "Expectations Driving Investment Yielding Innovation."
I'm confident that anyone attending the conference will walk away with some pretty heavy ideas.