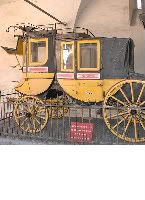 My drive up to the Bay Area yesterday included a meeting with Ahura Energy CEO Fareed Sfard in the quaint town of Saratoga.  But what once was originally a sleepy stagecoach stop is now the home to a company that claims to have set the world on fire with a huge breakthrough in renewable energy.
In fact, Ahura's innovation in the field of concentrated solar power (CSP) promises grid parity (an equivalence in price of electricity with that of coal, the dominant source of electrical energy in the US today) more or less immediately.  The secret sauce?  Proprietary low-cost actuators that track the sun through the sky without the expense of the electric motors and controls that normally go along with this set of technologies, eliminating the major cost components that hold back even our most advanced CSP system designs.  An enormous claim, to be sure.
"I have a saying that goes like this," I joked with Fareed as we spoke; "It's always cheap until you build it," referring to the fact that, at this moment, most of Ahura's technology is working only at far smaller scale than that necessary to prove real-world application.
My host smiled and nodded politely, undeterred by my remark, which he certainly could have taken as a cheap shot.  But I wasn't worried about his taking offense; I had seen though our many previous conversations that he is a man of science, with a gracious bearing.
Further, let's acknowledge two facts.  Here is:
1) A guy who ran 12 factories of the biggest contract manufacturer in the world (Solectron) which put more products into the market than anyone on the planet over a period of 3 1/2 years. I believe this is particularly relevant, as those were products with complexity and tolerance requirements with 3 or more orders of magnitude more complicated than what Ahura has here — which is "light assembly" (vs. real manufacturing).
and …
2) A bill of materials which truly is incredibly simple and inexpensive.
We'll see what happens, but I actually am betting he can come up with the goods.
Please let me know if you'd like to learn more.