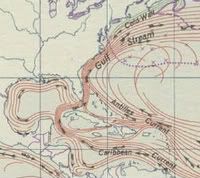 I just got off the phone with Paul Greyschock, from hydrokinetics start-up Cyclo Ocean in Vero Beach, FL. There were a couple of items that made this conversation noteworthy. First is the technology itself. If you check out the website, you'll see immediately that a great number of the issues that thwart most attempts at tidal or ocean-current hydro are dealt with cleverly and inexpensively. In particular, note that the device is anchored to the seabed, not moored into it.
But what struck me hardest about our talk was Paul's background; he came to this place from many years as a commercial fisherman, a business he had pursued until he had a realization. "It wasn't sustainable," he told me, without any need to elaborate. Of course, one has to like anyone who makes a career change because he perceives that the path of his life's work is unsustainable.
But perhaps the neatest aspect of our talk came clear when Paul said, "I came to know those currents very well, like the Gulf Stream and the Mozambique Current (between Madagascar and Mozambique). I had been fighting them for years." That's cool, I thought to myself; he's gone from fighting something to turning it into an assistant; he's turned an enemy into a friend. May we all be so lucky.