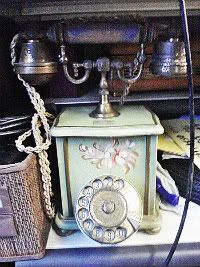 It's the birthday of Alexander Graham Bell, whose telephone came as the accidental consequence of his interest in developing a tool that might teach deaf people how to speak. To me, it's another reminder that accidental discoveries are extremely common. My friend Wally Rippel discussed this with me last time we got together.
When Sputnik was launched, we were thinking about bombs and spy satellites. Now, the applications are hurricane observation and navigational systems. 
Rudolph Diesel envisioned that the diesel engine would be used in people's homes where they had shops so that they could do woodworking and things like that.
It sure makes one wonder about what we're doing here and now, when the development of technology for things like clean energy is happening at an ever-accelerating pace. In fact, one of the start-up opportunities that I favor, the concentrated solar power project as described here, is based on a breakthrough that its CEO made while working on the space program decades ago.
For me, the take-away from all this is humility. I try never to be too sure I've fully understood the consequences of a certain idea. It may have application where I least expect it.