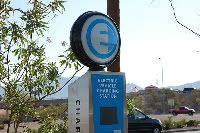 Here's a nice excerpt from "Green Auto Market — The Business of Green Cars, Fuels & Technologies," an e-newsletter that I'm happy to see gaining ground and increasing circulation. It's written by Jon LeSage, a very savvy guy, located not too far from me here in Southern California:
Craig Shields' Second Book on Renewable Energy Launched: If you ever get the opportunity, have a conversation with Craig Shields. He'd previously written a great book on renewable energy, and just had his second book released on March 15, Is Renewable Really Doable? Exploring Clean Energy's Opportunities and Tough Realities.

When I first met Craig a few months ago, we had a lunch meeting at a midway point between our offices (Santa Monica), and while overlooking the ocean and pier during lunch, we talked about a series of great topics – renewable energy, electric vehicles, battery technologies, the oil industry, geopolitics, and other good stuff. His first book Renewable Energy – Facts and Fantasies, featured Q&A interviews with pioneers and leaders in renewables and greentech, including a few people I've had the privilege of meeting and interviewing – the city of Santa Monica's fleet superintendent Rick Sikes; Electric Drive Transportation's president Brian Wynne; Electric Power Research Institute's Mark Duvall; and manager of Honda's FCX Clarity fuel cell vehicle, Steve Ellis. Is Renewable Really Doable? moves the question up to the next level and features highly respected names in the field.

While he has been most passionate about renewable energy, Craig also has been very active on the EV front through his relationship with the distinguished publication EV World, and he heads up the clean energy consulting firm 2GreenEnergy. There are certainly no easy answers to all of the challenges faced by every type of clean energy, and Craig Shields has dug into the critical issues in a readable, conversational writing style – sort of like having lunch with him.