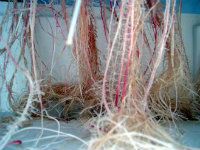 Clean energy is just a part of the overall sustainability movement, yet it stands at the center of so many important issues. For example, the world supply of water and food are dependent on abundant energy, thus our very survival is threatened to the degree that we depend on non-renewable resources for generating energy.
In our webinar this month we will examine the subject of "sustainable food." We will discuss the direction in which the world agribusinesses are taking us, and explore a cutting edge solution that has the potential to make a big difference here: aeroponics.
My guest will be Rafael Quezada, CEO of Tower Harvest, a leading expert in the deployment of aeroponics. I think you'll be impressed by how many purely positive effects are created by aeroponics in terms of nutrition and health, energy efficiency, local growing – even job creation.
The webinar is Thursday at 10 AM PDT; I hope to see you there. Here's the sign-up sheet:  http://2greenenergy.com/free-webinar/.