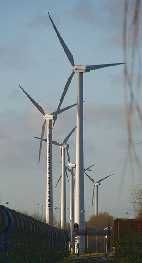 Patricia A. Holden of West Dennis, MA writes:
I am concerned about the big push for industrial wind turbines in this country. I frequently visit a friend in Falmouth, Massachusetts who has had three of these turbines installed within in a mile (one is less than 1/2 mile) away from his home. He and his neighbors are having health issues as a result of the operation of these turbines so close to their homes……Please be sure that your research and understanding is all-encompassing before you continue to advocate wind energy.
Thanks for this, Patricia. Though I'm certainly not an expert on the subject, I am aware of Wind Turbine Syndrome (WTS), controversial as it is.
To summarize where I see this going:
 • There probably are some deleterious effects of living too close to wind turbines, and thus we will ultimately not want huge (megawatt+) versions in residential areas.
 • I don't wish to appear unsympathetic to anyone's suffering, but I need to point out that we live in a world of trade-offs, and that those concerned about WTS, when and if it can be substantiated, will have a heck of a hard time arguing that wind is more damaging to human health than fossil fuels. You'll note that Harvard professor Dr. Paul Epstein's recent report found that coal costs the U.S. $500 billion per year, due in large part to health care costs from heavy metal toxins and carcinogens emitted during the processing of coal. More than 13,000 in the U.S. alone drop dead every year from breathing the aromatics of coal, and hundreds of thousands of others become seriously ill.
 • In any case, you're absolutely right that wind has an ecologic impact. I know that the wind industry is working hard to minimize these many issues including birds/bats, wildlife habitat, health issues, noise, and aesthetics. Did you read what Brian Rutledge from the Audubon Society told me when I interviewed him for my first book? It was rather alarming.  You can get a free e-copy of Renewable Energy — Facts and Fantasies here, and check it out.
Thanks for writing.