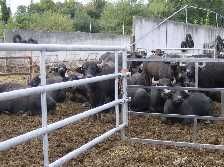 I'm going to be helping my new-found friend, Robert Orr of Manchester, England in his quest to build a facility to turn buffalo dung in Southern Pakistan into fertilizer and energy. How much dung are we talking about? It's hard to imagine. First, try to picture 400,000 dairy buffaloes in an area of a few square miles – several hundred per acre. Now, figure that, between solids and liquids, you're getting 25 pounds per day per head, or about 8,000 tons per day.
Then realize what's happening to it currently:
• Some of the solids are separated and dried, then burned to make room for more. Of course, incinerating feces projects toxins into the air, causing ridiculous rates of disease, infant mortality, etc.
• Most of it forms a river and flows south into the Arabian Sea, a body of water that is now so polluted that fishermen row their boats through five miles of sewage every morning before they encounter anything still alive.
Robert has a refined and gentlemanly demeanor, yet carries with him a raw passion for the project, as well as perhaps a thinly disguised level of disgust and contempt that mankind has been brought to this horrific place. It will be a pleasure and an honor to work with him.
Here's a report from the BBC on the program.