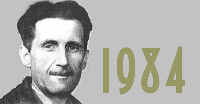 Most of us read George Orwell's 1984 in high school, and since incorporated the adjective "Orwellian," into our vocabularies as a result of the enormous impact this masterpiece made upon us. As it's usually used to describe language, "Orwellian" refers to words or phrases that have been deliberately manipulated to convey meanings that are in direct opposition to the normal concepts they would have implied. For example, 1984's protagonist works at the "Ministry of Truth," whose function is to rewrite history, forever obscuring historic truths from the citizenry.
I try not to miss an episode of NOVA, PBS's terrific series on science. But whenever I tune in, I'm reminded, "This series is funded in part by David H. Koch … to promote the public understanding of science." Each time I hear this, I can't help thinking: Now that's Orwellian.  You seriously want me to believe that David Koch wants people to understand science?   Here's a message that could have come only from the Ministry of Truth.
According to the University of Massachusetts at Amherst's Political Economy Research Institute, Koch Industries is one of the nation's top 10 polluters, with their enormous plays in crude oil and coal. Through its subsidiaries, Koch operates refineries with a combined crude oil processing capacity of more than 800,000 barrels per day. Koch and its affiliates market and trade more than 40 million tons of coal, coke, and other related products annually.
Now obviously being a polluter — even a gargantuan one — while it may not be a good thing, has no bearing on someone's rhetoric's being labeled as Orwellian. But while being on the "dark side" is one thing, lying about it and creating massive PR campaigns (like the sponsorship of PBS shows on science) to cover it up or excuse it are another.  The very last thing David Koch wants is a public that really understands science –- at least as it relates to the physics, chemistry, and biology of our environment — and how his life's work has been built squarely around enriching himself beyond the wildest dreams of avarice by destroying the ecosystems upon which all living things depend — all the while cleverly covering his tracks.
I invite the reader to check out a few articles here:
Koch Brothers Exposed: Fueling Climate Denial and Privatizing Democracy
Charles And David Koch Exposed For Insidious Role In Crafting The Modern Right
Covert Operations – The Billionaire Brothers Who Are Waging a War Against Obama
When you're finished, feel free to  Google a few of these search terms; there are hundreds of thousands more where these come from.  E.g., "Koch Brothers Exposed" returns 538,000 pages, including a film by that name.
I take flak when I write things like this, but it pains me to see PBS prostitute itself like this. I know public television and radio are desperate for the funding to keep them going. But has it come to this?  Can't you just tell these people to take a hike?
Sadly, the answer appears to be no.