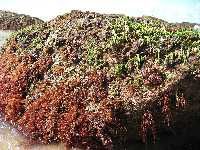 The scientists at Bioinformatics Institute at Virginia have collected the draft genome of a marine algae sequence to support the researchers all over the United States in a project which aspires to find out the best algae species for creating biodiesel fuel. The need to develop an alternative and renewable fuel sources is to avert any energy crisis in the future along with reducing the greenhouse gas production. Researchers want to produce large quality of bio fuel in some small amount of space employing minimal resources. This will therefore to address the world's fuel requirements.
Algae bio fuels is both promising and unique
Algae are simple microscopic organism which is generally seen in water and grows hydroponically. These micro algae do not require land or soil to grow as majority of them survive easily in any kind of water including brackish, salty and plain dirty or any other kind of wastewater. They do not need fresh water to sustain and are proved to be more productive than the crops based on terrestrial fuel. If you choose to render a good amount of sunlight to these organisms, the photosynthesis taking place within them would be substantial. With the presence of organic nutrients and carbon dioxide in water in suspended form, these helps them to double their mass in just couple of days.
In certain species half the mass comprises of lipids which are natural oils, which can be extracted and then used as algal crude or can be refined to a high grade hydrocarbon products including the bio-jet fuel for aircrafts and biodiesel. The algae strains have the potentials of producing more carbohydrate than the oil which can be easily fermented in order to make bio-butanol and bio-ethanol. The algae bio fuels do not have sulphur and are non toxic and biodegradable. A wide range of strains can produce good amount of fuel with different energy densities as compared to the other conventional fossil fuels. These are made up from renewable resource which is carbon neutral.
The other features of Algae
The reasons why Algae has emerged out as a promising feedstock for the future bio fuels is owing to the fact that it has high energy content, good energy yield per acre along with fast growth and capacity to grow in water of different quality. At least on theoretical terms, the potential for energy is remarkable. As per the US Department of Energy (DOE), the algae have the potentials to create more than hundred times oil per acre than the soybeans. This therefore makes algae a leading source of US biodiesel or any other kind of terrestrial oil producing crop. A number of research and studies have supported the use of algae bio fuels in various automobiles and different jet airplanes. These all features give algae bio fuels a good reason to become a renewable energy source of the future.
Using it on the commercial scale
The algae bio fuels are certainly a promising thing; however, cultivating algae on a commercial scale is hard nut to crack. The power sector is still testing a wide range of methods for cultivating algae including trying with the options of closed bioreactors open ponds and other procedures. The Bioreactors are proved out to be the most effective deal in producing superior quality algae in a small amount of time frame, but the only problem is these procedures are pretty expensive. Hence experts of this field are questioning about the economical feasibility especially in terms of commercial scale production. John Benemann, who has invested his thirty years in the area of microalgae bio fuels claims that 98% of commercial algae biomass productions are produced with some cheap method; however, it comes with a risk of contamination by evaporation, algae species etc. Hence what you get to see at the end of the day is low energy density algal oil.
Different cultivation initiatives
The various non agriculture lands are proved out to be an effective place for cultivation of algae bio fuels. Thus you simply negate the idea of using fertile and productive land which is meant for growing food crops. The growth rate of algae is pretty fast as compared to the conventional food crops which are around 20 to 30 percent. To produce large quality of algae bio fuels, the method of closed loop system along with the photo bioreactors have proved out to be the most effective methods. However, as discussed above these methods are not considered as economically viable option.
Governments of developed nations along with several companies have started putting their efforts in making this option as economically more viable. A leading California based Algal Bio fuel Company called Sapphire Energy is about to invest around 100 million dollars in developing systems of open pond methods. The company aims to manufacture green crude oil which can be refined into fuels which are chemically identical from diesel, gasoline and petroleum based jet fuel. Thus, it will need some special kind of distribution system or engine modifications. The company claimed to produce one million gallons per year of jet fuel and diesel by the current year. Also, by the year 2025, the company has the vision of producing one billion gallons per year, which could be 3 percent of the total RFS mandate.
Another bio fuel company- Solazyme plans to tread an economically viable solution for cultivating algae bio fuels. They claim to have a different system for closed pond method where sugar would be used as the algae feed. Another bio fuel company Origin Oil has claimed to devise a new system to extract oil from the algae in just one step. According to the video available on the company's website, Origin Oil intends is likely to embark with this system to yield greater benefits in the fast moving algae sector.
The challenges
Despite all claims and optimism numerous challenges still remain in this path. According to DARPA (Defense Advanced Research Projects Agency), there are several technical challenges which include hunting and indentifying potential oil algae varieties, devising practical oil extraction methods from algae along with finding out ways to make it commercially viable co-products. Also, the impact on environment is to be considered while harnessing this form of energy as they are a big concern over the wildlife. Above all the exorbitant costs involved in these procedures is a big issue among the list of challenges.
Considering the high potentials of algae, the scientists and researchers are optimistic about making algae a renewable energy source for the coming future. However, if you listen to the experts and thinkers of this field, you still need another 5 to 10 years to make this dream a reality.
About the author: Alia Haley is a blogger by profession. She loves writing on technology and autos. Beside this she is fond of cars and fancy accessories. Recently an article on Algae Biofuel attracted her attention. These days she is busy in writing an article on Algae inspired lamps.