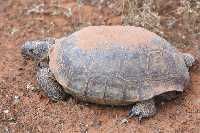 I just got an email from the Sierra Club, wanting me to get on board for a piece of environmentalism that goes like this:
This year, Assembly member Felipe Fuentes has a bill that would allow the Calico Solar Project, a solar project in California that will cover 4,613 acres—four times the size of the Golden Gate Park- within an area key to the survival of the desert tortoise- to bypass the environmental review process that almost all other projects are subject to.
I see no reason that anyone or anything should be exempt from the standard environmental review processes. Having said that, it's always struck me as inflexible to refuse to make tough choices. Imagining 4,613 acres as all PV, we'd have about a gigawatt (after using a capacity factor of 0.2) , a replacement for a coal-fired power plant. I hate to sound insensitive, but considering the larger ecological and health-related issues of burning coal, I would think that the savings would justify exiling some desert tortoises.