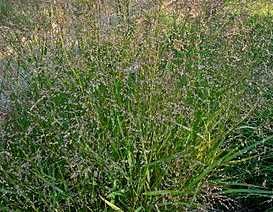 When I first got into the renewable energy space, Robert Rapier was one of the first people to whom I reached out, as he's been around this industry quite a while. I recall that he was quite gracious with me; we had a long and interesting chat on the phone.
Here's Robert's take on the enterprise of cellulosic ethanol, which, for what it's worth, aligns 100% with my own: it won't scale.
If it is to offer real value, a biomass to energy project needs to involve a feedstock that has a negative value to society, like municipal solid waste, manure, waste tires, etc.  But growing plants for this purpose, with the financial and ecological costs of planting, irrigation, fertilization, harvest, and processing, appears to be a loser.
The reason: simple thermodynamics. What percentage of the sun's energy that was incident on a certain plant becomes available as a biomass energy source? An extremely small portion. Life forms are not here because they store tons more energy than they need to perform their biologic functions; in fact, they're evolved specifically so that doesn't happen.