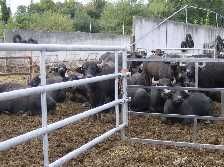 Our guest for this month's webinar is Robert Orr of Manchester, England, who will tell us about his quest to build a facility to turn buffalo dung in Southern Pakistan into fertilizer and energy.
We are talking about a huge amount of animal waste: 400,000 dairy buffaloes confined in a small area are creating, between solids and liquids, about 8,000 tons per day.  Today, most of it forms a river and flows south into the Arabian Sea, a body of water that is now so polluted that fishermen row their boats through five miles of sewage every morning before they encounter anything still alive.
I hope you'll be able to join Robert and me for this lively presentation, Thursday, June 28, 2012 at 10 AM PDT (1 PM EDT).  Robert has a refined and gentlemanly demeanor, yet carries with him a raw passion for the project, as well as perhaps a thinly disguised level of disgust and contempt that mankind has been brought to this horrific place.
He's also a man with a plan – and by my wits, it's a heck of a good plan at that.  I hope you'll join us.  Here's the sign-up form:  
http://2greenenergy.com/free-webinar/