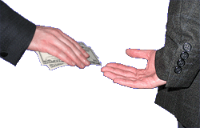 Guest blogger Brian McGowan sent me this nauseating piece on the entrenchment of the oil and coal companies.
As we've noted often here, one of the leading drivers of environmentalism in the US is the military. This carries with it a certain irony, of course, in that one of its main functions is ensuring our access to oil. Having said that, the military understands that the need to protect oil supply lines in the field is an extremely dangerous proposition – one that costs a significant number of young people's lives each month.
It is for that reason that today's news is so particularly shameful. Congress is trying to intervene against the Pentagon's preference for alternative energy sources.  
Both the Senate Armed Services Committee and the House are pushing measures prohibiting the military from investing in or buying alternate energy if traditional sources like coal and oil are cheaper.
Think it can't get any more disgusting? Wrongo. Senator Jim Inhofe (R-OK) is the point man in our intervening in the effort to make our military more energy efficient, and the number one contributor to his campaign are oil and gas companies.
That's just sickening, Jim.