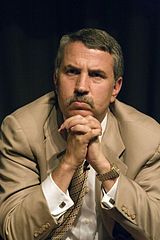 Here's Tom Friedman's op-ed in yesterday's NY Times. As always, I agreed with most of it. But I point out two things:
1) He has a keen mind — one with which he has done quite well — but his popularity is largely based on tuning his writing towards optimism. I'm sorry to sound suspicious of others' motives, but I often wonder about his sincerity; I find it hard to believe that, in the pit of his stomach, that he's not as frightened as you and I as to humankind's future. Friedman routinely comes up with deus ex machina concepts that he posits as the forces that will restore the U.S. to her former greatness and provide Americans with the ever-improving quality of life that we enjoyed through most of the 20th Century. I'm reminded of his conclusion to "The World Is Flat" in which he writes (I paraphrase): Yes, things are bleak, but American's are crafty. Look at what we did with Google, Amazon, and Ebay a decade ago. There are bound to be many more future breakthroughs like these in the decade to come by way of Yankee ingenuity.  This whole thing seems a bit facile to me; from listening to him speak, I believe he's too smart to believe in fairy tale endings.
2) In this article he writes: "Our newfound natural gas bounty can give us long-term access to cheap, cleaner energy and … bring blue-collar manufacturing back to America." How someone of this stature as a business author could write about the energy picture and not mention renewables is astonishing; at a minimum, it shows a remarkable lack of insight.
Having said this, again, I respect and admire him, and commend him on another good piece overall.