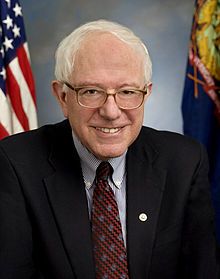 Duke Brooks writes on Independent Vermont senator Citizens United opponent Bernie Sanders as follows:
Sanders is, of course, not an independent. He is, IN FACT, a self-described socialist…. The opposition to Citizens United (granting corporations the right to spend as much as they choose, in order to influence our elections) comes NOT from the faux "moral outrage" feigned by the Green Mountain socialist and his friends, but rather from a leftist opposition to capitalism in general. Their hatred is focused on companies, which are institutions that have been the victims of marx, lenin, engels, stalin, mao, castro and Sanders for generations.
Duke: I can't say you're absolutely wrong; obviously there are people who oppose capitalism in general. But you're clearly wrong that there are no capitalists who oppose Citizens United on moral grounds.  The reason I'm so confident in this is that I'm one of them.
All the ad hominem attacks in the world will not nullify the core truth here:
There are corporations operating in the fossil fuels industry that are spending a fortune to manipulate voters and our elected leaders with respect to environmental issues. Their motive: minimizing regulation that would cut into their profits, even at the expense of the health and safety of you and me, and all other living things on the planet – now and into the future.
That's morally wrong.
Here we have people who aspire to double their net worth, which numbers are currently measured in the tens of billions of dollars, and who recognize that their business activities are promoting lung disease, climate change, terrorism, ocean acidification, and plummeting biodiversity, while creating shortages of food and water.  Yet, on a day-to-day basis, they're using their fortunes to buy favorable treatment from Congress and hire public relations firms to obscure the truth about the effects of fossil fuels.
That's evil. Sorry to be so blunt, but it's hard to find another word for it.