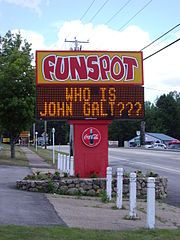 I urge readers to join in the discussion in response to my piece on Sylvia Earle: "Humankind's Plight at a Macro Level." In particular, frequent commenter Cameron Atwood discusses the role that the ultra-libertarian philosophy of Ayn Rand has in our current government here in the US.
It's funny you bring up Ronald Reagan's mention of Ayn Rand in 1966, Cameron. It was only a few years after that (the early 1970s) that I read The Fountainhead and Atlas Shrugged (the former is the better of the two, IMO). The whole libertarian thing made a great deal of sense to me for a couple of decades — until I realized the truth of essentially what you've written in your comment, i.e., that private interests in a deregulated environment, generally, will exploit the resources around it to an unacceptable level. Any doubt Americans had about this should have vanished in 2008 with the collapse of our financial system, not to mention our society's coming face to face with the ruination of the fragile ecosystem on which it and all other life forms depend.
The fact that many of us simply refuse to see this doesn't speak too highly of us.