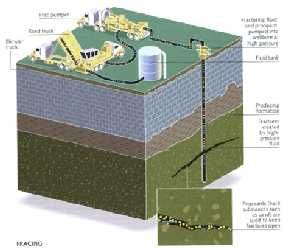 A friend of mine sent me a bunch of material on the dangers of fracking, which I offer here to readers. But first, our brief conversation:
Friend: Wow. Check this out.
Craig: Thanks.  As you know, I'm a big proponent of renewables. But I'm an even bigger proponent of fairness. Do you think this piece is completely fair to all sides?
Friend: Yes, Craig. I know the DOE and EPA have found problems with leaks in casings. They want regulation and inspection of well drilling to make sure they are sealed correctly. I don't know about the casings deteriorating but it makes sense that they would over time especially if there was an earth tremor. Also studies show methane leaking with as much greenhouse potential as is saved by using the gas instead of coal to make electricity. (NY Times)
I have a BS in Geology and worked for the USGS. We found water and contaminants moving between water aquifers in different layers.  The people in the groundwater division of the USGS were very smart, honest, hard working, and scrupulously unbiased. Here are some links I have accumulated.
http://topdocumentaryfilms.com/sky-pink/
http://thinkprogress.org/romm/2011/11/11/367030/doe-fracking-panel-serious-environmental-consequences/
http://www.pbs.org/now/shows/613/index.html
http://www.pbs.org/now/shows/613/index.htm
http://www.technologyreview.com/blog/energy/26855/?p1=blogs
http://www.gaslandthemovie.com/take-action/contact-elected-officials
http://www.nytimes.com/2011/08/04/us/04natgas.html?hpw
http://www.technologyreview.com/energy/37390/?mod=related
http://www.technologyreview.com/energy/38463/?nlid=nlenrg&nld=2011-09-05
http://www.huffingtonpost.com/robert-f-kennedy-jr/fracking-natural-gas-new-york-times-_b_1022337.html