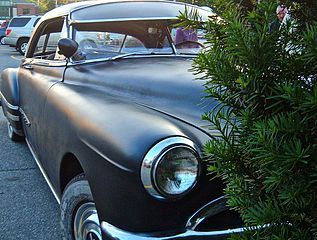 I had lunch today with David Raney, one of the most accomplished professionals in the automotive industry. About a month ago, I had introduced 2GreenEnergy transportation guru Dan Sturges to him, and I thought it would be a good idea to meet again with David to get his sense for what he was thinking about the future of the industry.
Though I'm not sure David would agree with me, here's my belief: car ownership was the paradigm for the 20th Century, and it was wonderfully effective in bringing wealth, jobs, convenience, and countless different types of improvement to our lifestyles. However, the ecologic consequences were significant. More than 75% of these 4000-pound hunks of steel carry one passenger of 1/30th of that weight. We live on a small planet that is rapidly depleting its supply of fuel that was created over the last hundreds of millions of years, sequestering carbon, and the exhaust of that fuel is ruining our planet. Is it any wonder that this concept ran headlong into sustainability issues? It's unaffordable in every  sense of the word. 
For that and other reasons, e.g., urban congestion, transportation in the 21st Century needs to find a new paradigm, one that blends mass transit, car-sharing, ride-sharing, an increase in walking and bicycling, and a transitioning to smaller, alternative fuel vehicles.
This will play a large role in reducing the rate at which we're ruining our natural environment. And more good news: the customer will be much happier. He'll be healthier; his lungs will be breathing cleaner air, and he'll get more exercise. He'll also be wealthier; the average family spends $40 per day on its cars; the new paradigm cuts into that in a big way. This means more disposable income for education, entertainment, etc.
But that suggests the bad news: the buyer wins, but the seller loses — and we're talking about a seller that has grown accustomed to collecting its $40 each day. Anyone who has anything to do with the supply chain for cars and trucks and the fuel they use (the most powerful people on the planet) will fight this to the death. Again, these are people who aren't used to losing.
Of course, dozens of new industries will spring up around the new paradigm. That should make people happy, shouldn't it? Not if you're the car people in Detroit or the oil people in Houston. Remember how the auto industry covertly torpedoed California's zero-emission vehicle mandate in the 1990s? Fasten your seatbelts; that story will appear tame compared to the battle that is about to ensue here.