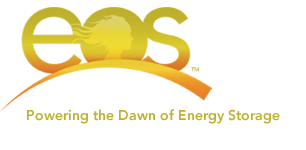 I brought an associate to make a brief presentation to my friends at Eos Energy Storage yesterday.  As I've mentioned, Eos represents a breakthrough in zinc-air batteries that will soon culminate in electrical storage at $160 / kilowatt-hour, about one-third of what we're paying now for lithium-ion.  Eos chairman Michael Oster, its president Steve Hellman, and I have become "fast friends" by virtue of the interest I've taken in the company and its work, and the efforts I've taken to find them an appropriate set of strategic partners.
These people routinely impress me in ways that go far beyond their brilliance as battery chemists, materials scientists, etc.  As Michael was showing my colleague and me around the plant yesterday, we walked by a room separated from the main part of the facility, with one gentleman hard at work with a great deal of high-tech equipment.  "He looks particularly intent," I noticed.  "What's he doing?" 
"Trying to prove the rest of us wrong," Michael smiled.  "We think what we're doing with zinc-air is the best available approach right now.  He's looking for alternatives that will make what we're doing here obsolete.  If he comes up with something, I want to know it and jump on it before the rest of the world finds out.  That's why he's in a room by himself; I don't want his thinking contaminated by what the others are doing and thinking." 
I hate to sound like a weirdo, but I find that to be startlingly beautiful.  It's looking for truth, not agreement.  It's refusal to fall in love with yourself and your ideas, but actively working to disconfirm what you believe, rather than looking for evidence that corroborates what you already believe. 
"That's the mark of a high-integrity person, as well as a strong company," I responded.  "How many of us challenge our beliefs, rather than surrounding ourselves with ideas that make us feel good by aligning with what we already think?"