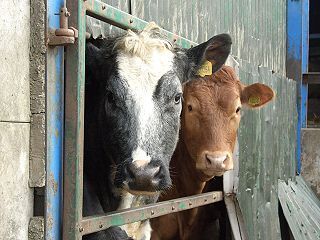 I'm frustrated at one source of energy which is not being used, almost at all, and yet, there is an endless supply — methane. I have passed sewage treatment plants in some medium-to-small cities, and they have 'flare-off" pipes going! Oil drilling platforms flare off gas and methane, too. My father came close to getting killed while working on a tunnel in Santa Barbara — he had been telling the bosses that there was methane in the tunnel, and so far, they hadn't given the drillers and blasters so much as a canary for early warning. The tunnel was so hot, the managers rolled ore cars full of cold water back to them, and when someone couldn't stand the heat, they would jump in the ore cars to cool off! But the tunnel blew anyway — Dad was lucky, as he was walking OUT of the tunnel at the time, carrying a large wooden beam on one shoulder. The explosion knocked him flat, the beam came down and broke his tailbone. He also had a colorful collection of bruises and scratches.
He came home later, looking haunted. I had never seen him like that, and asked. He said "I went back to pull people
out, and their skin came off on my hands!" I noticed he was fanatic about washing his hands, for several months.
So, we know methane is dangerous, but then, so is natural gas. Why not recover it in sewage treatment plants, compress it, and use it? Recently, I saw a news item about melting in the Arctic. A Russian man, living in the
'taiga' – that part of land above the Arctic circle, which is huge, saw a sudden hole in the snow. He lit a match, and
it burned a blue flame! If anybody worries about 'Global Warming' — they better hope that several quadrillion to
the tenth power of 'permafrost' doesn't melt – because all of it contains methane!  So, instead of being injured by it,
and worrying because it can damage us, use it. Use it to fire up power plants, homes, hot water heaters (though I
prefer the 'instant on' type), making steel, anything we now use natural gas for. Japan, just like any other country,
has to find a way to process and remove sewage, so why not turn a noisome nuisance into a solution? Even for
a country like Japan, as long as it is populated by humans, the supply of methane would be endless! People politely
say that cattle 'burp' methane, in order to have a polite conversation — but so do humans!
In my article, entitled 'We are NOT Running Out of Energy," I wrote about a pig-factory in one of the Carolina states,
which has ruined the lives of homeowners downwind of that plant. They have put the waste in 'lagoons.' Pretty
name for filth. When it rains, they overflow and get onto the land and roads nearby. The companies also pump the
wasted onto adjoining agricultural lands, and now the land is so saturated it is letting the waste percolate down
into the water table. I learned recently, that this is not a problem confined to pork producers; cattle feed lots,
slaughterhouses, dairies, anything where something alive goes in one end, and waste pours out the other.
Because of the awful treatment of animals in factory farms, chicken farms, turkey farms, etc. I have given up eating
any beef, pork or veal. The treatment accorded baby animals is not to be believed!
BUT: if all these places were mandated to use methane conversion, they could become good neighbors instead of
hated industrialists poisoning the land, and by the way, with methane conversion, they could pay all the costs of
electricity, become a self-powered company, and sell the excess to the grid! They could probably get tax rebates
for installing such equipment. And people could stop hating their guts.
Byproduct of methane conversion? Clean, sterile soil, which, if 'infected' with earthworms and compost, could go
a long way to remediation worked-out farmland!