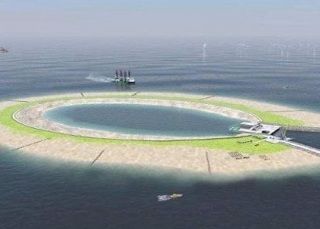 My friends at Eos Energy Systems tell me that far more than 95% of the world's energy storage is pumped storage hydroelectricity (PSH) – which is one of the reasons they believe that their breakthrough in zinc-air batteries is so important.  We commonly think of PSH of requiring natural changes in elevation, since the cost of building such topographies would be cost-prohibitive – but is that necessarily true? 
Here's a unique approach to energy storage that the Belgians are implementing, building a hollowed-out island (pictured at left) off the coast of West Flanders, enabling them to more than triple their wind capacity (currently 3%) from its North Sea wind farms alone, allowing them to replace one of their two 3,000-MW nuclear plants.
The article doesn't quote the cost, but this does seem potentially viable in shallow and calm waters.