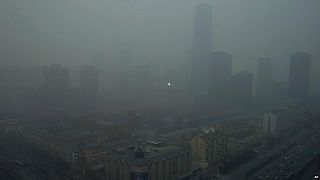 Those of us who listen to Al Jezeera can't help notice that the deplorable quality of the air in China is a really big deal, not only to the Chinese, but to people all around the globe.  In addition to long-term environmental damage, the proliferation of coal-fired power plants has created immediate and dire health consequences for hundreds of millions of people, hoards of whom are flocking to stores to buy air purifiers and face-masks.
Thoughtful and compassionate people all over the world understand that we've come to a fork in the road.  We either cooperate with one another and come together to develop sustainable solutions to our planet's energy-related problems, or we're all in for a world of hurt.
Of course, those who get their news from the mainstream media in the U.S. could easily miss this issue altogether, as it's being largely ignored over here.