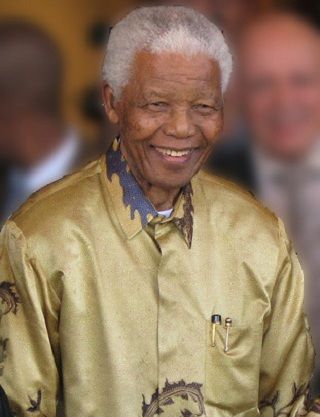 I sometimes look back on things I've written about the malice of the special interests that pervade the energy industry and think, "Man, that's harsh.  Maybe meeting this greed and evil with aggression of my own is fueling the fire. Maybe, as a few readers have suggested, I should tone this down on the basis that 'hatred begets hatred.'"
I'm reminded that during the 27 years that Nelson Mandela was in prison, he devoted himself to learning Afrikaans, so that could speak the language of F. W. de Klerk and the rest of his oppressors.  His approach wasn't one of hatred of those who had imprisoned him and enslaved his people; it was one of peace and consilience – and he wanted to be able to practice it as perfectly as he possibly could.  Perhaps I could learn a lesson from this. 
On the other hand, I often think of abolitionist, lecturer, author and slave Frederick Douglass, who will always be remembered for this position:
Power concedes nothing without a demand. It never did and it never will. Find out just what any people will quietly submit to and you have found out the exact measure of injustice and wrong which will be imposed upon them…. The limits of tyrants are prescribed by the endurance of those whom they oppress.
It's clear that there is some truth on both sides here.
In any case, tomorrow morning it's off for the East Coast for a series of meetings in Washington DC and Philadelphia.  My first engagement is the American Council on Renewable Energy's (ACORE) National Renewable Energy Policy Forum on Capitol Hill. 
I bring this up because, speaking of consilience, ACORE has taken diplomacy and tact to a truly stratospheric level.  They advocate for renewables, and away from….nothing.  When the oil companies spread lies (my word, certainly not theirs) to the effect that renewables are too expensive, don't work, are part of a Marxist plot to bring down capitalism, can't scale, don't matter anyway, since fossil fuels are abundant, safe, and truly American etc., etc., ACORE doesn't cross swords; they calmly and amicably point to EnergyFactCheck.org, a robust collection of actual, documented truths.  No name-calling, no harsh words – just the facts. 
I guess I could learn from these people and try to adopt a kind of Zen-like serenity, but I'm not sure it's in my DNA.