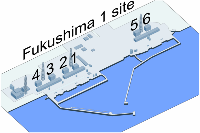 Frequent commenter/author Frank Eggers writes on my piece on subsidies for nuclear:
Nuclear power has been demonstrated to be far safer than fossil fuel power. Coal plants cause health problems that, while severe, are difficult to pinpoint because generally they simply greatly increase the health problems which would exist anyway whereas nuclear accidents, though infrequent, have a more concentrated and obvious effect.
Frank:  I'm not one of the hysterical anti-nuke people who grossly over-estimates the danger. Having said that:
1) The lessons of Chernobyl and Fukushima tell us more than how and where not to build nukes; they tell us that there are many lessons to learn, some of them unseen as of this date.
2) We still don't know what to do with nuclear waste. It seems irresponsible to build something without knowing how to deal with the products of its operation.
3) The cost of building a new nuclear plant at this point is astronomical. In the time required to design, permit, build, and deploy a nuclear facility (at least eight years), the cost of renewables and energy storage will have continued to plummet. This makes the whole concept of nuclear nonsensical.
Yes, I know Obama talks up nuclear. He'd talk up daisies too if the flower industry had a fraction of the money, the lobbyists, and the power wielded by the nuclear boys. There are no words or campaign promises that change the three points above. You will not see another nuclear power plant commissioned in the U.S.