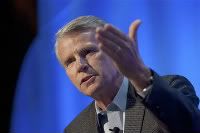 I've had the pleasure of bumping into Ray Lane at numerous industry conferences, and have been lucky enough to hear him speak on subjects that include the financing of renewables and electric transportation. I was thrilled when he accepted my invitation for an interview, as I knew it would add a much-needed perspective of the real-world, no-nonsense exigencies of big money. After all, we can talk about the theory of money—but we can also look at the way in which billions of dollars actually change hands.
Ray currently serves as Managing Partner at venture capital giant Kleiner Perkins Caufield & Byers, focused on helping entrepreneurs with technological and market insight, organizational development, team building, selling and managing growth. Since joining KPCB, Ray has sponsored several investments for the firm in clean and alternative energy, including Ausra (concentrated solar power), Fisker Automotive (plug-in hybrid car), and Th!nk NA (battery-electric car).
Ray also serves as Non-Executive Chairman of the Board of Hewlett-Packard – a company I've had the pleasure of serving as a consultant on a dozen-or-so occasions in the 1990s.
I am very grateful to Ray for his help with the project, and I know readers will benefit from his keen business insights.